Who doesn't want beautiful and warm kitchen, especially the women out there, you want your kitchen to be elegant right? Well, you must be lacking from ideas to make your kitchen look graceful, but, you don't have to worry dear! We've come up with the most engrossing kitchen interior designing ideas 2021 to make your kitchen a space where you'll love cooking than ever.
Withal, the modern Kitchen is something where people not only cook but also enjoy the meals. But picking kitchen designs is not a cakewalk, you should have to do utmost research and then finalize the designs.
So, in this blog we are going to get all the latest kitchen design 2021 ideas, you just have to pick those you like the most.
And, if you don't want to take the stress by yourself, more than that if you are residing in Patna, Bihar then AKJ Contractor the finest kitchen interior designing company in Patna is the best choice for you.
Kitchen Interior Designing Ideas 2021
With the cool new 2021 kitchen trends and colors, you can remodel your entire kitchen.
So, below we have rounded up the best kitchen design trends 2021 that will innovate your kitchen with the new looks.
5 Best kitchen design trends 2021
Look at these 5 trendy ideas to renovate your kitchen and make it of more stay at home and food stock up.
Use Different Materials
The kitchen sink trends 2021 says that if you put some elements like cabinetry or other appliances it's not going to look off the shell.
Henceforth, around the sink area you can put some utensils made of brass.
"Kitchen should be designed around what's truly important- fun, food and life"

Daniel Boulud
Add a Dutch Door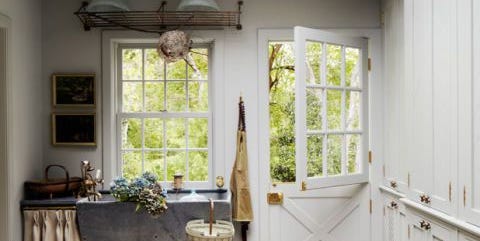 If you want to make your kitchen more functional then try renovating your kitchen with the dutch door.
Not only is the door going to give your kitchen the charm but also the warm and refreshing look.
Keep your Shelves open
Well, having an open shelve is not a new concept but definitely a popular one this year.
Open shelving is one of the best kitchen interior designing ideas 2021 to store the necessities in your kitchen along with making it pleasing to the eye.
Note: You might prefer reading architecture designing company in Patna.
Add Some Art to Your Kitchen
One of the latest kitchen design 2021 is adding art to your kitchen, so, try this year something new and add some framed portraits in the kitchen.
Keep Your Kitchen Natural
Last but not the least, try to keep your kitchen look natural, moreover use the natural woods to make the shelves or any other cabinet.
Small Kitchen Ideas 2021
Every kitchen needs to look perfect no matter it's large or small, however you may have to work a little bit extra if you have a small kitchen.
Look Out at These small kitchen trends 2021
Try to do perfect storage organization and create ample space.
Use corner for the storage of things.
Use high cabinets, drawers, and shelves in your kitchen.
Don't go for a normal table; use a foldable table for your small kitchen.
With the foldable table the transparent chairs will give a modern twist.
"The fondest memories are made when gathered around the table" 
Kitchen Colour Trends 2021
When it comes to chose colors for the kitchen, the entire color palette start revolving in our mind.
Moreover, until last year grey, white and brown colors were more in trend, but the tables have turned now. There are vivid combinations of colors that you can chose to make your kitchen modern and updated.
So, have a look at these kitchen interior designing ideas 2021 with diverse colors.
Green
Go with the different shades of green like blush green, mint green and olive green to give a cheerful look to your kitchen.
Blue
A pastel blue with a modest touch of gray, or a navy or indigo blue can be a good choice for amplifying your kitchen area.
Pink
Having an old rose color combined with some dark colors can furnish an revitalizing gaze to your kitchen.
Black
One of the most widespread and also the darling colors that can give a different angle to your kitchen, moreover you can also combine this color with some light colors.
Kitchen Sink Trends 2021
The kitchen sink is also a place that brings personality to your kitchen. So you can have a look at some of the trendy kitchen sink offering by the manufacturers.
Ergo, you can go for some chic designs like Apron front sink, Farmhouse sink, & integrated sinks to offer some concrete design to your kitchen.
Well, these were the varied 2021 kitchen trends and colors, with slim pickings ideas.
AKJ Contractor – The Best Kitchen Interior Designing Company in Patna
AKJ Contractor (A UNIT OF GREEN SKY SERVICES PVT LTD) being the vibrant construction company is the finest interior designing company in Patna.
The Company provides high quality infrastructure facility for the beautiful and charming building.
Moreover, with the experienced and skilled interior designing team, AKJ provides best interior designs.
Withal, it's one of the leading companies in Patna with an aim of providing world class facilities to its clients and become the reputed company with thoughtful approach of giving life to the house.
Wrapping Up
Kitchen is the soul of house, it also reflects the personality of the person especially the women out there.
In a like manner, everyone wants their kitchen to look perfect, no matter who you are and what you do.
So, if ever get confused while going for some best designing ideas for kitchen, do have a look at theses blog where we have furnished the best kitchen interior designing ideas 2021.
Also, tell us in the comment section below about your effervescent ideas and thoughts, and how you are going to give that fascination to your kitchen.